Description
Mobility scooter wheelchair carrier ramp 
Are you looking for a solution to get your mobility equipment into your car? 
Are you tired of carrying your wheelchair, mobility scooter or equipment up a difficult ramp? 
Are you wondering what the best mobility scooter/ wheelchair carrier ramp is for you? 
Our mobility scooter wheelchair carrier ramp is the perfect solution for you!
With our attention on the ease of use by providing the longest 2 sectional ramp available. This is particularly important when loading and unloading your scooter or wheelchair as it provides a more gentle incline than other products on the market making it safer to use.  We use 3 welded support bars on the undercarriage of our ramp and main platform and higher gauge steel overall for extra strength and rigidity which is why our carrier is 10 kgs more than cheaper copies.
There are 3 main things to consider when buying a carrier
Will my scooter/wheelchair fit on the carrier?
Will my vehicle be able to carry the combined weight of the scooter/wheelchair and wheelchair carrier ( 40kgs) . To ascertain this you will need to know the downward load rating for your vehicle
Will my vehicle meet the rear overhang limits set out by each state. Please check with the state's relevant authority.
If your still unsure we are here to help.  Please contact us or come into our showroom for a demonstration or watch the link below
Introducing a fantastic solution for carrying power wheel chairs, mobility scooters,  ATVs or just about anything else that will fit inside the parameters of the carrier.
A great alternative to updating your vehicle to enable you to carry your mobility device or ATV.
All you need is a vehicle fitted with a 2"x 2" (50mm x 50mm) Hayman Reece type pull out tow bar that has a downward load rating equivalent to the weight of your mobility device and the weight of the carrier (37kgs) combined.
Use the many tie down points to secure your mobility device to the carrier. (Tie down straps not included)
Note: Some of the pictures are of a model that loads/unloads of the right hand side, the actual carriers ramp folds down on the opposite side to allow for curb side loading.
The carrier features an integrated 2 section ramp which folds up and out into 3 different positions.
The first position keeps the ramp folded upright against the back of the vehicle when not in use. It is secured in position by a spring pin.
The second position allows the ramp to stand up at 90 degrees to the main carrying platform after the mobility scooter or wheelchair has been loaded on to the main platform. The ramp is held vertically in place with a spring pin and a padlock for security.
The third position is the ramp unfolded. This position allows for scooters, power wheelchairs, and just about anything with wheels to be pushed or powered up the ramp.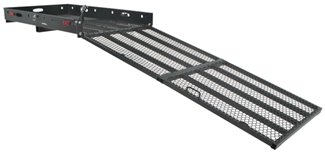 A welded handle on the ramp allows for easy folding and unfolding.
Tie down straps can be hooked onto any of the 10 tie down holes found on the 4 " sides of the carrier
The rear of the carrier has 2 reflectors for greater visibility at night.
Supporting the carrier is a heavy duty 2'" x 2" (50 x50 mm) hitch tube and an anti tilit bracket which features 4 bolts and a safety pin to allow the hitch tube to be removed from the carrier.
The hitch tube has a 5/8" hitch pin hole for securing the carrier to your vehicle
Specifications:
Load Capacity 500lbs / 220 kgs
Carrier Length 46.5 " or 118 cm
carrier width 28"     or   71 cm
ramp length 60"     or 152 cm
ramp width 27      or   68 cm
weight 80 lbs  or   37 kgs
Hitch mount required (inside diameter ) 2" x 2" or 50 x 50 mm
Colour Black
Features:
Black powder coated finish
Each carrier includes a extra long 5' ramp when fully extended
The entire carrier has the option of tilting upward and locking in the upright position
Quick release spring loaded pins allow for easy unlocking of the ramp
Large cut out handles allow easy lifting of the carrier. Each cut-out has a rubber insert for padding.
Handles also allow easy controlled lifting of the carrier
Anti-Tilt Device to minimise any left to right roll
2 Reflectors Included
10 tie-down points
Sturdy steel construction
Not sure if your set up is compatible?  Contact our staff today! 
Pick up is available